The summer of cricket is now underway in Australia. Cricket means different things to different people, but ultimately, it is a game which brings families together. If you don't believe me, just ask The Kochmans.
John, Jodie and son Thomas are a cricket-loving family residing in Ipswich. John lives with blindness, which he says he "hides pretty well." No kidding, he is currently preparing to represent Queensland in the National Inclusion Championships in January. In what sport you may ask? Blind cricket.
"We play games with a rattling ball," John says. "You sort of get used to where the ball is after years of practice. I've played for Queensland ten times before, including once in a tour game against England."
John receives support from Focal whenever he needs transport or assistance in the community. Today though, with his wife present, John is playing the role of spectator at his son's cricket match. He and Thomas are already doing some catching practice when I arrive at Len Johnson Oval, just minutes from Focal's premises in North Ipswich. They are the first family to arrive. Watching on with Jodie is Barry, Thomas' Focal Support Worker.
"Thomas has Autism and ADHD (Attention Deficit Hyperactivity Disorder)," Jodie explains. "For him, it's about learning to cope with instructions and processes. He has experienced high levels of anxiety before, which can result in him having meltdowns. We focus on giving Tom gentle reminders, and asking him if he is okay."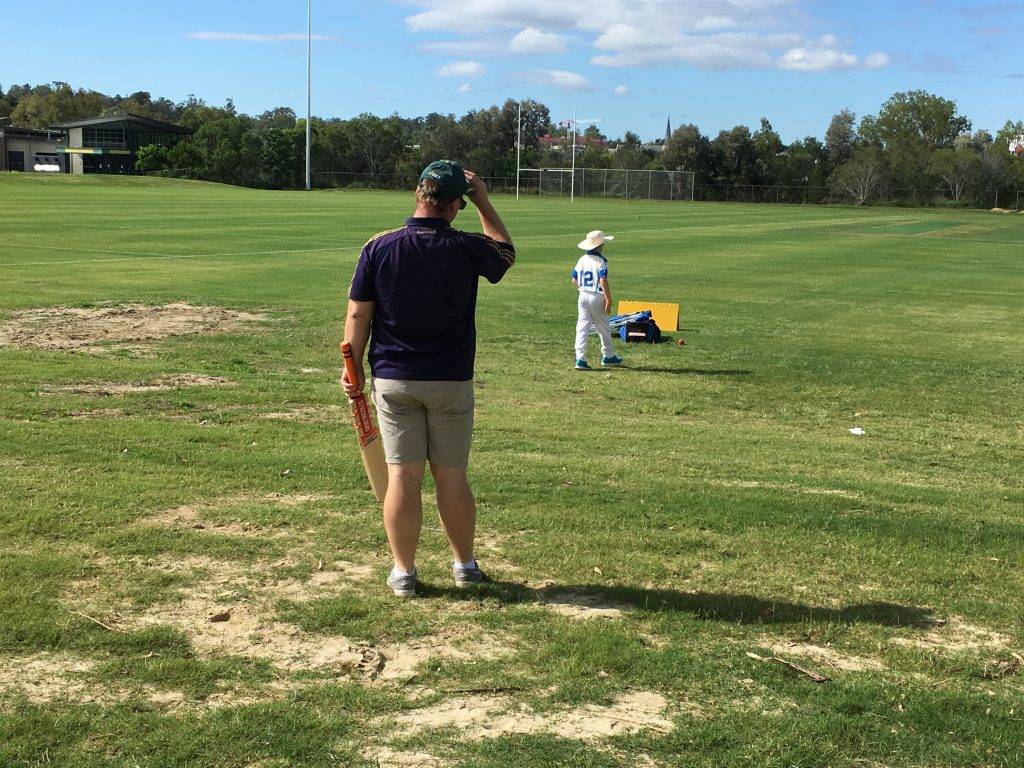 "One of the most important things is good communication between myself, the family and Thomas," says Barry. "Thomas talks a lot actually, so I always try to keep the conversation focused, especially when we're in the car or somewhere quieter. That works quite well."
Thomas' team, Brothers Ipswich Cricket Club, are sent in to field first. When I ask Thomas how he likes to bowl, he does not hesitate with his response. "I like to bowl fast," he smiles. He then runs onto the field with his teammates, as if he were bowling in a match. I would have thought that I was talking to a young Brett Lee.
This is Thomas' first season of club cricket, following Milo's foundational programs. He is playing in a level one division for beginners, whereby four sets of 10 over innings are played on a synthetic pitch. His father is a massive fan of the format, in which teams are selected on ability rather than age. "All the kids get an equal go at batting, bowling and fielding, which is great for everyone. It's a quick game as well, so it keeps them on their toes."
After ten minutes or so, it is Thomas' turn to have a bowl. He pauses briefly, before charging into the crease with a strong action. I could not help but comment on his smooth follow through. John tells me that this is down to hours of practice in the backyard. On his sixth ball, Thomas knocks down the stumps. "He's a lot quicker than you think!"
After Thomas walks off the field, the first people he embraces are his family and Barry. But when he gets ready to bat, the nerves begin to set in. John continually reminds him that this a just a game, and to enjoy himself out there. As Jodie explains to me, it's moments like these where support from Thomas' network are vital.
"There have been times at cricket where he will have a meltdown, but no one here will bat an eyelid. The community has this wonderful understanding of Tom's behaviour, and accepts that every child is different. This is fantastic not only for Tom, but for us as a family."
"Taking Thomas to the cricket is very important for him to develop his self-confidence," says Barry. "Learning how to socialise and work with other children – that's a fundamental skill for all children to have."
"The goal down the track is to get rid of the behaviour, or at least reduce its intensity and frequency."
As one of the game's stand-out bowlers, Thomas received a Player of the Game award. Behind every great player though, is an even better team. Thomas' team is bloody hard to beat on the field. And off it.
Stay tuned for Part Two of "What Cricket Means to the Kochmans", to be published later this summer. (Hint: it involves the Brisbane Heat!)
To learn more about Focal's services, please visit our website or contact us today.