Samuel Joseph Elfstrom-Collins (a.k.a the artist Doggamaran) explains his 2014 painting of what Focal means to him.

This painting is a metaphorical illustration using events of which have happened over the course of fifteen years while a client of Focal. These images and the events tied to them are each displayed each on a branch of a tree which is itself another metaphor. The tree grows out from a burgundy book which is yet another metaphor. The book is the beginning—it is the story of my life opening up and bursting out on the branches of the tree.
I have Autistic Spectrum Disorder (ASD). Widely misunderstood, ASD is often assumed to be an intellectual disorder when it is actually a neurological disorder. Some people may ask, 'what's the difference?' Well, an intellectual disorder means not being as capable with intellectual tasks; e.g. a learning disability or cognitive disability.
Autism is more diverse, intellectually. In a neurological disorder, neural pathways are not being as capable of making comprehensive connections; i.e. lacking social behaviour or having difficulty with the senses (smell, sight, hearing etc.), but this does not apply to everyone with Autism.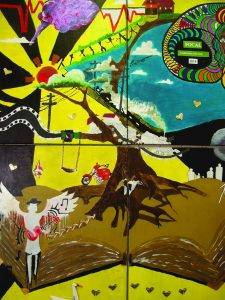 In the painting Autism is seen as sphere shapes which demonstrate the common depiction of Autism as a spectrum—which basically means sphere—measuring the different levels of which a person with Autism would slot into.
In the top left segment of the painting is a brain with a heartbeat behind it, made clearly visible by yellow and black sun rays. The brain demonstrates the common misunderstanding of Autism; the heartbeat is symbolic of epi-cardia, a heart condition of which I have a minority of.
Focal took me to places like a church or a park (see the church to the left of the top right segment, and the tree which dominates the painting) where I met new people and developed my talents.
In particular art became an interest, such as this obvious painting and drawing, but also photography, sculpting and music, with all genres represented beautifully throughout the painting.
Music for example, such as learning to play the ukulele—my first instrument—and the help from support workers, is illustrated by the white silhouette of an angel holding a ukulele. I also painted a white angel onto the back of my ukulele. The black and white drawing of a train in the centre of the painting shows that transport is no longer an issue, for I now travel to the Springfield University of Southern Queensland (USQ) campus entirely unassisted, to hang with new friends and to learn to further strengthen the skills I am proud of.
Meet the artist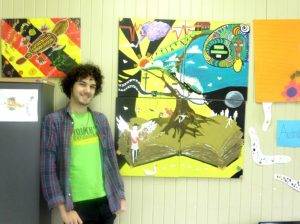 Growing up, Sam struggled with social interactions and Focal supported him by taking him out of the house, helping him to expand his comfort zone, meet new people, and realise his talents, such as art, painting, drawing, photography and sculpting. Other supports included post-school networks such as the 360 degrees program at the University of Queensland Ipswich. Even then, Focal was there to transport Sam back and forth to the university.
A number of support workers over the past fifteen years helped Sam develop his various talents and to become more social. During 2013, Sam enrolled in a Bachelor of Creative Arts at USQ in Toowoomba. Unfortunately, Sam had to defer and return to Ipswich which is where Support Workers, Leonie and Kula, came in.
Leoni, a long time Support Worker, shared Sam's passion for art, which saw her contribute to this painting. Kula has been helping Sam realise his musical ability; Allan then took over and "was equally awesome", according to Sam. All three Support Workers have offered additional help with transportation, such as catching trains. He now travels to the Springfield Campus of USQ entirely unassisted.
This painting is not only the story of Samuel Joseph Elfstrom-Collins as told by him, but it also shows how Focal has helped Sam.